Handicaps - General
The Huntington Senior Citizens Golf Club ("the Club") participates in the USGA Handicap system (GHIN) through it's affiliation with the Metropolitan Golf Association (MGA) and provides each member of the Club with a USGA handicap revision every 2 weeks during the season. These handicaps are posted on the Bulletin Board at Crab Meadow and on the Member Handicaps web page on the web site.
Using the Handicap
During club handicap competitions, players enter their Adjusted Handicaps on the scorecard and then subtract handicap strokes from their gross scores to arrive at net scores. Higher handicap players subtract more strokes than lower handicap players, resulting in closer competition.
Calculating your Adjusted Handicap
Calculate your Adjusted Handicap for an event by multiplying your Posted Handicap (found on the Handicap Report on the website and bulletin board) by the event Handicap Allowance, identified on the Tournament Schedule to the right of the tournament name. (This number is the percentage of the Posted Handicap that is allowed for a particular tournament; e.g. M90% means men use 90% of their Posted handicap). There is a conversion chart on Bulletin Board and web site that converts values. No tee adjustments
Entering Handicap Information on Scorecard
The Adjusted Course Handicap can be used for both total round and individual hole scoring, depending on the tournament. In the Tournament Schedule on the web site, weekly event names preceded by a "#" apply individual hole handicaps to determine the score for that hole. All other weekly tournaments just subtract the Adjusted Course Handicap from the 18 hole Gross score to arrive at the Final Net Score.
To make scoring easier during a round that uses individual hole handicaps, it is recommended that the scorecard be marked with the handicap stroke allocation for each hole as described below. Refer to the sample scorecard for your event, by clicking on the event name in the Tournament Schedule.
Example 1: Adjusted Course Handicap = 15
Hole Handicap Rating 1 to 18, receive 0 strokes each as base quantity
Hole Handicap 1 to 15, receive 1 additional stroke per hole
Example 2: Adjusted Course Handicap = 23
N Calculation: 23-18 = 5
Holes 1 to 18, receive 1 stroke each as base quantity
Hole Handicaps Rating 1 through 5, receive 1 additional stroke per hole
Example 3: Adjusted Course Handicap = 39
N Calculation:39-36 = 3
Holes 1 to 18, receive 2 strokes each as base quantity
Hole Handicaps Rating 1 through 3, receive 1 additional stroke per hole.
Reporting Scores - Event and Handicap
During a round, each player enters his/her Gross Score for every hole on the scorecard. The event is scored based on these scores. Submitting a valid scorecard in the container on the Bulletin Board at Crab Meadow inputs your score for the event, but you still have to enter your score into the GHIN system for handicap purposes. Scores can be entered at the computer in the Pro Shop at Crab Meadow or online at www.ghin.com or www.mgagolf.org. Note: During Covid-19 scorecard submission is accomplished by sending a digital image by e-mail to the Tournament Coordinator.
Equitable Stroke Contol
When entering your scores into the GHIN system you must adhere to a set of rules called Equitable Stroke Control (ESC) which provides for a maximum allowable score on a hole based on your posted handicap. The maximum score that can be posted is Net Double Bogey, i.e., double bogey plus strokes allocated for that hole.
ESC score = Par + 2 + (strokes allocated) with the following proviso; no score may exceed par by more than 5 strokes. The tables below define the maximum ESC scores for the holes on Crab Meadow. When reporting scores for handicap purposes, if there are any holes for which your score exceeds the (ESC) limit for your posted handicap, you must adjust your reported score to agree with the table value.
Uncompleted Holes and Incomplete Rounds
a) Uncompleted Hole - If a player does not finish a hole or is conceded a stroke, record the most likely score for handicap purposes.
A most likely score is calculated as follows:
- the number of strokes already taken, plus
- the number of strokes the player would most likely require to complete the hole from the ball's position, plus
- the number of penalty strokes incurred during the play of the hole.
Most likely scores should be determined on any hole according to the following guidelines: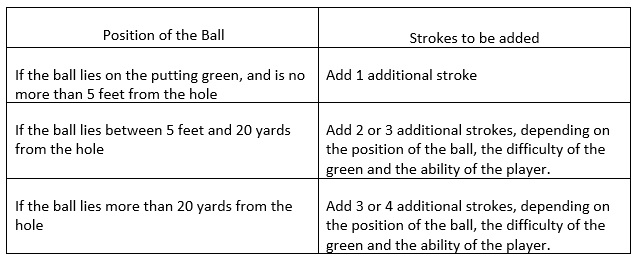 b) Incomplete Round
For rounds with 7 to 13 holes played post a nine-hole score and for rounds with 14 or more holes played, post an 18-hole score. The un-played holes should be scored with a net par which is:
Par plus the number of handicap strokes that are applied on the hole
Example: Unplayed hole: Par= 4, Handicap Strokes Applied = 2
Score entered is net par = 4+ 2= 6
What Scores must be reported
Members are required to report scores, using Equitable Stroke Control, for all rounds played on USGA rated courses when play is in-season at the course being played. The only exceptions are rounds not played in accord with the rules of golf, e.g., alternate shot or scramble, etc. and rounds played alone. During our off-season (November 16 through March 31), a member who plays golf in another area of the country where the GHIN system is active at the time, must report those scores.